Date to be Announced
Introduction to Sculpture – Materials and Techniques" with Award Winning Wildlife Sculpture by Rip Caswell and drawing with Casa Directer artist / co-facilitator Bob Masla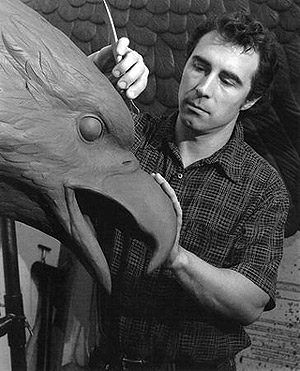 Rip sculpting in clay for the cast bronze monument "Guardian Spirit"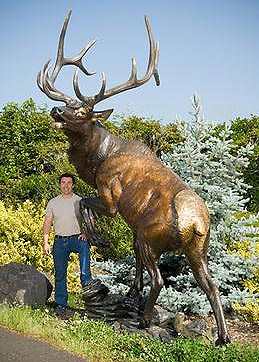 "Challenge Accepted", cast bronze, Rip Caswell
Special Price for Rips Workshop:  $1,895.00
E.B.S. before March 1, $1,795.00
We will visit the exotic zoo at Mismaloya. Last time Rip taught at the Casa they had just birthed a few Black Jaguars and Bengal Tigers. We had the incredibly rare opportunity to go in the pen with the babies, hold them, play with them, photograph them up close and measure them. We then went back to the Casa Studio and with Rips' expert and gentle guidance we all produced wonderful Jaguar sculptures. We are hoping for a similar experience this year.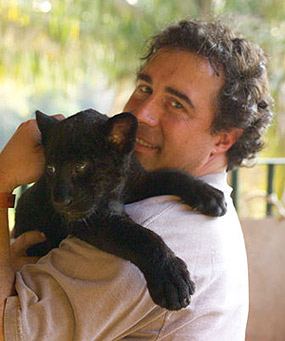 Rip with baby Jaguar
Rip will guide each participant in the basics of modeling with clay in the stunning Casa Studio, a 1500 sqr. ft. open-air studio with incredible views. Participants in Rip's week "Introduction to Sculpture" will have lots of hands on work, along with demonstrations and lectures. Anticipate a memorable experience, filled with adventure, inspiration, and camaraderie among new friends. You will bring home with you skills, knowledge, insight and a working understanding of the sculptural process. The Casa's Bob Masla, who has over 30 years as an exhibiting artist and over 25 years teaching experience, will also be available for teaching and demonstrating the techniques for drawing and rendering, both from observation and eidetic powers, so you can work out your sculptural ideas on paper too.
But that's not all; make sure you bring your camera and sketchbook, as there will be numerous cultural excursions as well: We will visit the Mt. town of El Tuito to sketch and explore at the zocalo and then have lunch and tequila tasting at a hacienda restaurant overlooking the mountains and the aguave plantation. We will also be taking a trip into Puerto Vallarta and experience the lively arts scene. There will be a boat trip to explore the gorgeous coastline and spectacular rock formations, as well as to swim or snorkel at Los Arcos National Coral Reef Park, with opportunities for seeing sea turtles, whales, dolphins and abundant fish. We will also visit the Zoo in Mismaloya that often announces the rare birth of Bengal Tigers, Lions, Black Panthers and exotic big cats. Other wild life is right at hand, from the balcony of your room you can view tropical birds and observe the local unspoiled Boca. Watch (and participate) as the simple authentic Mexican village life unfolds around you. This quaint fishing village unspoiled by tourists, is a rare treat off the beaten path.
Words don't actually do justice to the wonderful adventure in store for each participant.
---
SEMINAR IS LIMITED !
REGISTER NOW TO RESERVE YOUR PLACE!
BOOK YOUR FLIGHT EARLY
You can reserve your place with a $500. credit card deposit, (no surcharge) or pay in full (surcharge applies)