Dates to be Announced
"Painting Methods of the Masters, From Under painting to Plein Air – Using C.A.S. Alkydpro Paints or the Medium of your choice" With artist Robert Masla
Using C.A.S. Alkydpro Paints or the Medium of Your Choice – With artist Robert Masla
Join Artist Robert Masla as he leads you in the exploration of various media in rendering and painting the structure and forms of rocks, the sea and sky. We will learn different techniques and practice various exercises that will help the participants to see and perform optical analysis on the various elements of their perceptions. Working both in the studio and painting in plein air at the beautiful sites surrounding the Casa, we will develop a repertoire of methodology that we will be able to apply in many situations.

Sailing to the Sun, P.V., oil and alkyd on canvas – Robert Masla
We will take advantage of the beautiful Boca and surrounding areas that offer unlimited details and vistas for both study and generating the inspiration necessary to fill our work with the passion of nature.
We will study closely the structure and textures of rocks and analyze the anatomy of waves, as well as the sea and water. We will also learn about capturing "formlessness" to convincingly portray sky and clouds. Masla will provide demonstrations, exercises and techniques in various media required to portray the illusions of dimension, solidity, liquidity, atmosphere and light. We will also be covering such subjects as; "the use and expressive quality of line", "tone and value", planes, contours and gestures", edges, -hard, soft and implied", "color and light" and "composition and design". Demonstrations will be done in various drawing media, watercolor, acrylic as well as oil and alkyd. Students may do the longer studies in the media of their preference.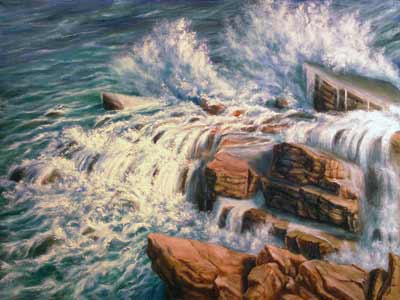 The Overwhelming Force of Nature -oil and alkyd on canvas, Robert Masla
Earth, water, air and fire (light) – communicating and portraying these 4 elements that comprise the natural world and filling them with spirit that animates the life energy pulsating through them- this is the challenge faced by the artist who paints the landscape and seascape. Masla will gently guide you to uncover your unique signature expression to give "life energy" to your rejuvenated creations. You will leave the workshop with a greater understanding of the techniques for rendering rocks, sea and sky, and an expanded sense of the passion and connectedness required to imbue your work with this energy.

Casa Andreas, P.V. -oil and alkyd on prepared paper, Robert Masla
About Maslas' philosophy on art and teaching:
"The goal is for me to act as much (as a participant) as a facilitator and guide in the creative process, not for people to draw or paint as I do. For me the art process is a spiritual journey. I experience individuals as sparks of creative energy and awareness, part of the Whole of the ongoing Creation. As children we all naturally participate with awe, and celebration in the creation – moment to moment. Remember your delight the first time you perceived dust particles in a beam of light or watched a "river of water" from a spilled cup, turn into a "waterfall" as it cascaded over the table top to form a "lake" on the carpet below
– only to "disappear" as it was absorbed moments latter – It was magical. It still is magical! It is our acceptance of routine and day-to-day
experience as "ordinary" that takes the Passion out of life. More often it is our perceptions and beliefs of the constructs of "reality" that shape our experience, rather than "pure experience". Many things have occurred to us since the time of innocence, when we were "one with creation" and celebrated with awe in the unfolding of our experience as part of the creative process. Since that time a lot of experiences (often voices of anger or criticism, judgments, mental constructs and belief systems – the many voices of the "inner critique") have created space, an illusion of separateness. Art, and particularly the drawing process, affords us with an amazing opportunity to re-experience our original and true nature as pure creative awareness. Join us in drowning out the voices of the inner critique by diving into the waters of passionate creative expression.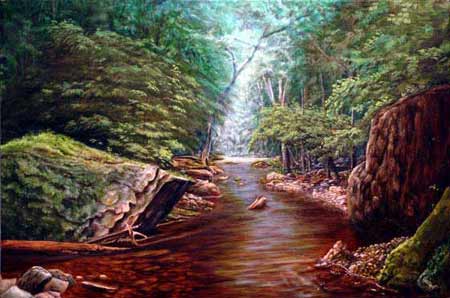 "Standing on Fossils, oil and alkyd on canvas, 24×36 inches, Robert Masla
I am blessed to act as a catalist and witness for the revelation of your own "signature" or
"style", the manifestation of your unique intuitive creative self. You will leave this workshop with improved technical skills, renewed confidence and inspiration to continue painting and drawing on your own, using art as a process to awaken and enhance self discovery – and have fun doing it!" Suitable for those who haven't drawn since they were children, seasoned artists and professional who wish to infuse their work with new energy and stimulation, -and everyone in between.
Like the other workshops in the "Casa environment", this experience will lead us to developing camaraderie among new friends and certainly stir our concepts and conversation around making art and the creative process. Do you want to draw? Seeking a fresh perspective? Wishing to renew your passion for life – Come create and celebrate – Draw Your Heart Out!
---
SEMINAR IS LIMITED !
REGISTER NOW TO RESERVE YOUR PLACE!
BOOK YOUR FLIGHT EARLY
You can reserve your place with a $500. credit card deposit, (no surcharge) or pay in full (surcharge applies)