March 25 – April 1, 2017 – Morgan Samual Price, Painting in Plein Air and the Studio
March 25 – April 1, 2017 – Plein Air Painting in Paradise with Morgan Samual Price

"Plein Air Painting In Paradise"
with renown artist Morgan Samuel Price"
Saturday, March 25th thru Saturday, April 1st, 2017
Join us for a wonderful week of experiencing the beauty of Boca de Tomatlan and Puerto Vallarta, Mexico. We will paint a variety of subjects of the surrounding area -seascape-landscape, with water, boats, people and architecture as well as the beautiful tropical flowers and foliage. Learn about painting en plein air with one of todays living masters. Morgan will offer daily short demonstrations of technique relating to specific subjects, and will also work with each artist individually to help build skills and understand the properties of their medium. Morgan is an enthusiastic and inspirational instructor who shares the wealth of her accumulated knowledge and experience of over 30 years of painting and teaching. She focuses on communicating information clearly in a supportive and friendly manner. Morgans recommended supply list is at the bottom of this page, please contact us with any questions.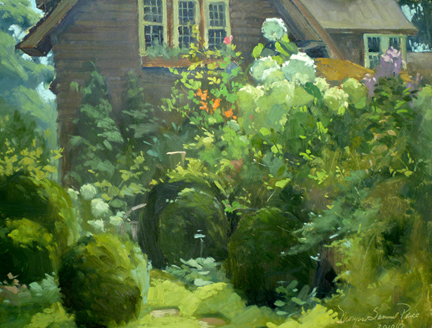 "Hydrangeas", oil, 11″x 14″ – Morgan Samuel Price
"Hello Morgan, 
I want you to know how much I enjoyed meeting you and experiencing your workshop this week. You are a wonderful teacher, amazing artist and a fun person to be around! I listened hard and learned a lot of great information that I will continue to practice on my weekend painting trips. I also appreciated the abundant energy you brought to your demos each morning, even when you had very little sleep! 

Thank you so much for your patience and sharing so much of you with us! 

I remain a devoted fan of your beautiful work and look forward with anticipation to see what you will create next. 

Sincerely, 
Bob Holden"
There will be a lecture & painting demonstration each day. You will also see Morgan create an entire painting each day. Along with so much information there will also be three to 4 hours each day for the participant artists to paint. Morgan is on location with you all day to answer your individual questions and give you suggestions. There is also a group critique each day following the painting session.
Take part in the most unique workshop available – the "Casa Experience". All the details, incredible food and drink, comfortable accommodations, and exotic  painting spots have all been taken care of for you. Come learn and explore the magical painting locations in and around the charming fishing village of Boca de Tomatlan with Morgan Samuel Price as your instructor. We will be painting on the beach in front of the Casa, (or in the open air studio), with the fishing boats, exotic birds, waves, river, village and mountains all around us. Experience the gorgeous rock formations of the Mexican Pacific coast as we take a boat trip, (with opportunity of seeing whales, dolphin, tortoise and mantas) and then onto sketch and picnic at a beautiful beach. Spend the day painting incredible flora and vistas as we make the hacienda at the award winning Puerto Vallarta Botanical Gardens our studio where they serve us a delicious lunch. Step back in time as we spend the day painting in and around the zocalo of the quaint  mountain town of El Tuito, stopping only to have a sumptuous lunch in the patio garden of a hacienda style restaurant off the town square. This and more when you join Morgan Samuel Price for Plein Air Painting in Paradise at Casa de los Artistas.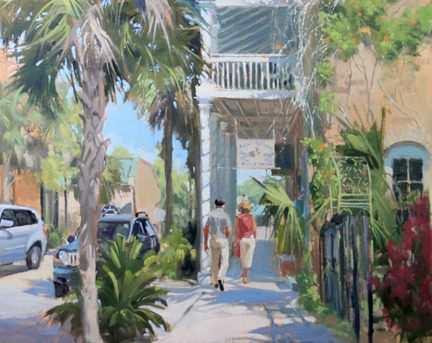 "Strolling for Treasure", oil, 16″ x 20″ – Morgan Samuel Price
---
SEMINAR IS LIMITED !
REGISTER NOW TO RESERVE YOUR PLACE!
BOOK YOUR FLIGHT EARLY
You can reserve your place with a $500. credit card deposit, (no surcharge) or pay in full (surcharge applies)
---
Suggested Oil Supply List for Morgan Samuel Price
Remember, this is suggested, much can be reduced, i.e. you can't bring solvent and Gamsol on an airplane, the Casa will supply some solvents
please call with questions.
Gamblin Oil Colors are the preferred brand:
Oil color 150 ml
Titanium White
Colors 37ml
Cadmium Yellow Light
Cadmium Yelllow Deep
Hansa Yellow Medium
Yellow Ochre
Cadmium Red Light
Cadmium Orange
Quinacridone Magenta
Indian Red
Transparent Red Earth
Cerulean Blue
Cobalt Blue
Phthalo Turquoise
Ultramarine Blue
Territ Grey ( free)
Ivory Black
Medium
Neo-Megilp 4oz. (2)
Galkyd Lite
Galkyd Slow Dry
Solvent
Gamsol 1 quart
Brushes
Silver Brush ( Brand)
Grand Prix (Style) or Cambridge
Flats – Type of Oil Brush – Natural Fiber White Chinese Hogs Hair
Sizes: #3, 4, 6, 8 & 10
Miscellaneous:
www.artworkessentials.com Manufactures the EasyL plein air easel.
The easel that Morgan prefers on location is the EasyL Lite . This easel
has an extended palette, container for Trash bags
Rembrandt Rolls (commonly known as toilet paper)
Or Paper Towels
Small clips
Bungie Cords
Umbrella
Suntan lotion
Bug spray
Chair (If you prefer to sit for the demo's or paint in a chair)
Baby wipes
Please call us with questions (413) 625-8382