To Be Announced – Caroline Jasper
Join Renowned Artist & Instructor
Caroline Jasper for POWERCOLOR PAINTING
Join Caroline Jasper at the Casa for "POWERCOLOR PAINTING"
To be announced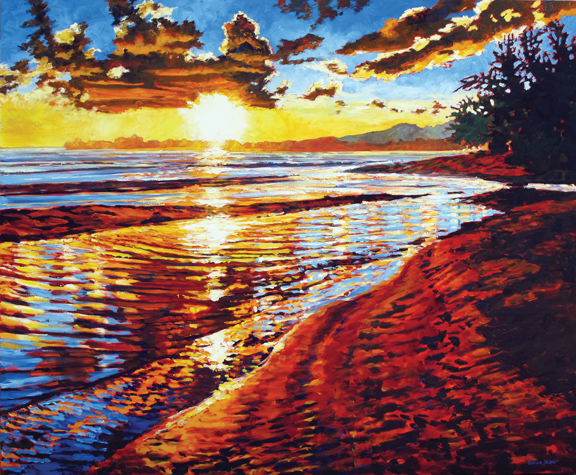 "Fortune", oil on canvas, 55″ x 67" – Caroline Jasper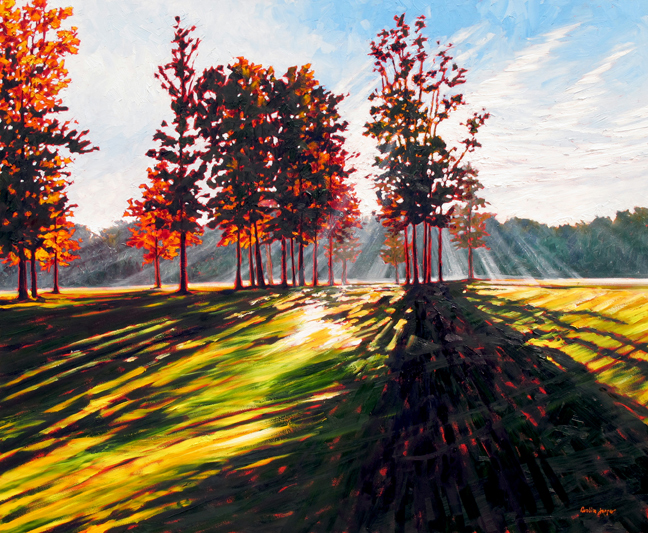 "Breath", oil on canvas, 55″ x 67" – Caroline Jasper
Imagine the best art workshop vacation of your life: Painting in a charming fishing village and other exotic locals along the gorgeous Pacific coast of Mexico, with inspirational workshop leader Caroline Jasper! Immerse yourself in the joys of authentic Mexican village life at one of the most beautiful and arts oriented locales in Latin America, Casa de los Artistas, in the serene village of Boca de Tomatlan, 10 miles south of Puerto Vallarta.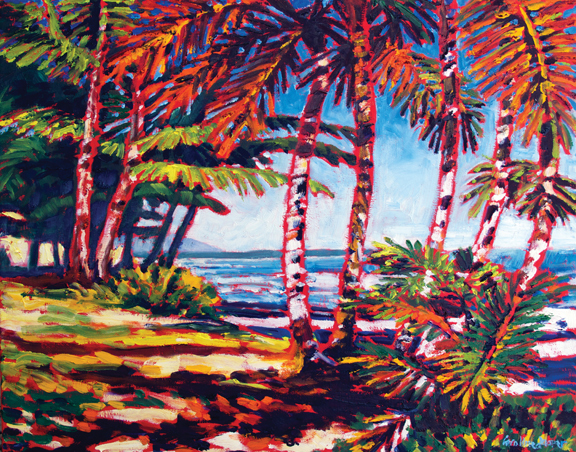 "Pleasures", oil on canvas, 18″ x 24" – Caroline Jasper
How far can you go in just 6 days?
This workshop will change the way you see/think/paint.
In Caroline's workshop you will learn techniques and theory to create powerful colorful paintings in the lush Mexican landscape, then bring what you've learned home with you to continue producing more powerful, colorful paintings from your home studio.
New learning for all levels, Beginner – Intermediate – Advanced:
Advanced color concepts
Enhance depth in painting
Create dynamic compositions
Paint on color grounds
Avoid muddy colors forever
Dramatize light/shadow
Improve visual perception
Open to all opaque painting media, Oil, Acrylic, Water Soluble Oils, etc.
Materials list provided upon registration.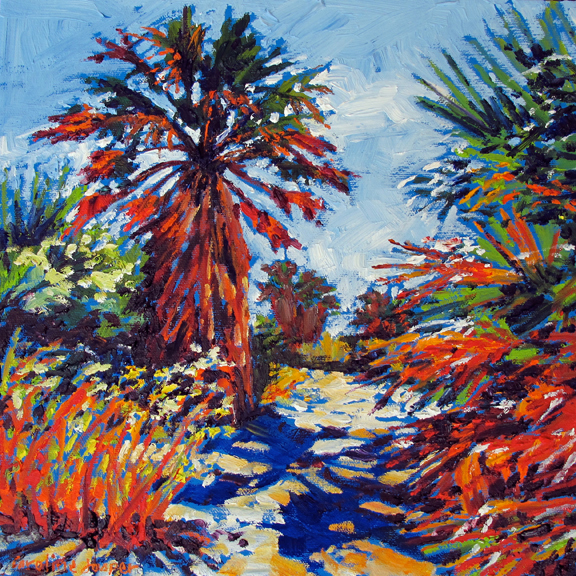 "Terra Nave", oil on canvas, 12″ x 12" – Caroline Jasper
Escape to paradise and progress to more powerful paintings. Immerse yourself in a lush, tropical, relaxing setting where you will create your best work ever. Enjoy fabulous plein air painting options and the exquisite Casa open air workshop studio space with 180 degree vistas of mountains, river, village, ocean and beaches. Make color work for you and say "good-bye" to muddy colors. Bring drama to your work through unfamiliar ways to think about and work with color, painting water, landscape or whatever you want. Master Caroline Jasper's way of painting on red canvas. Create exciting light and shadow effects. Awaken the emotive psychological power of color in your work. Manipulate perspective and lighting for dynamic depth. Following the first day's concentration on color, each day brings another new focus and new paintings. Along with a head full of color theory master concepts, take home valuable studies and inspired new paintings of your own.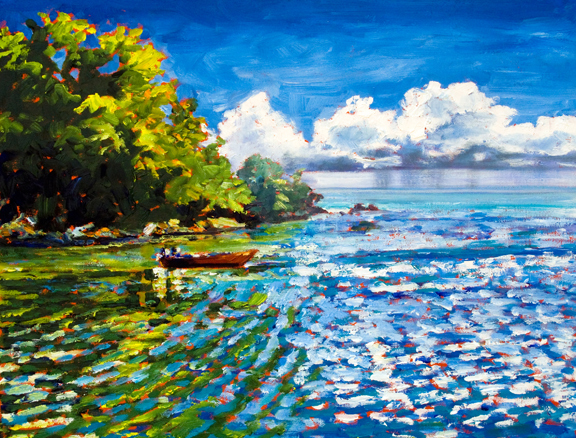 "Storm Coming", oil on canvas, 16″ x 20" – Caroline Jasper
There will be demonstrations and organized lessons every day as well as individual and group critiques during this all inclusive week long workshop. Caroline's lively, intensive workshops are filled with information and personal instruction. Tap her knowledge of color and share her passion for painting. Her one-on-one focus is on developing your personal vision and advancing your methods to higher levels. Her goal is to make you a better painter.
Dear Bob, Monica and Aiyana,
It is time to finally thank you from the bottom of my heart for such a wonderful, unexcelled experience of life in your beautiful Casa and its gorgeous setting. I loved every moment of it.  The outings were frosting on the cake, beautifully planned and executed. The casualty of it all added immensely to the charm of being in a beautiful wonderland. I loved the locality of your Casa – the privateness and yet the visibility to the village, river beach and ocean – really a very, very special place you have there and you fully deserve having it!!!

Stan has been so generous with sending and sharing his great photos that now it does not matter that my camera did not function. He took so many of the shots I would have taken also. Your nice and gracious employees will always have a special place in my heart. They prepared such pretty and succulent meals lacking nothing – which, also is part and parcel of your generosity. Outside of their care, I liked the dinners on the beach most of all. Could have eaten there every night!

Bob, I'm still amazed at the virtuosity of your paintings and your artistic abilities seem to have no end. It would have been a treat to also have had you as an instructor. Maybe some other time, if my strength permits me to return. I also love your gentle nature and sensitivity to people and your surroundings. You were just the person I had seen in my mind's eye from our phone conversation and your web pages. No wonder you and Monica have such an outstanding daughter. I'm sure the other two offsprings turned out as well as she in their own way! When I see young people like Aiyana, I have hope for this world!

Monica, I missed you! I loved the singing birds in the morning and the village sounds and happy music, the early fish-boats starting out – none of it was too much. They were all local life experiences, so natural and welcome to hear. Your decorations of the rooms and throughout the Casa are so warm, so thoughtful, in such good taste – I felt your presence everywhere and thought I knew you from way back when?

Well, you Dear Ones, I thank you all so very much and hope that I shall see you at least one more time – wishing you continued success and the best of health! With all my heart I greet you lovingly,
Friederike" – (Canada)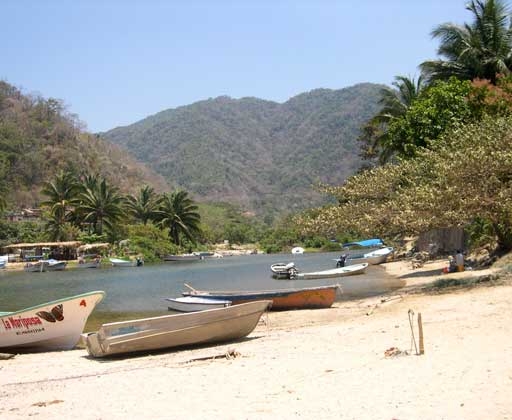 View looking East in front of the Casa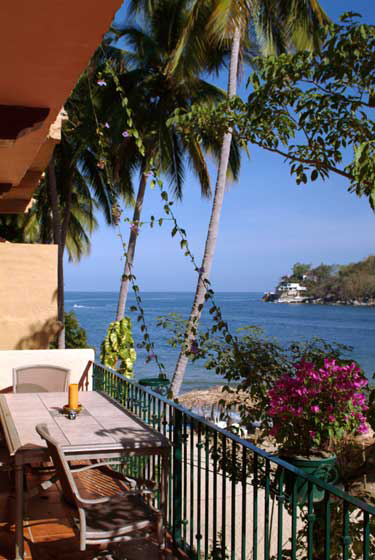 View from the Casa patio dining area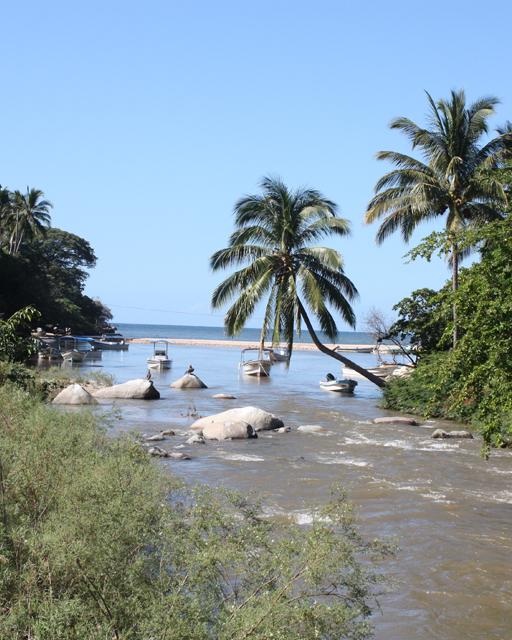 View from the footbridge to the Casa in Boca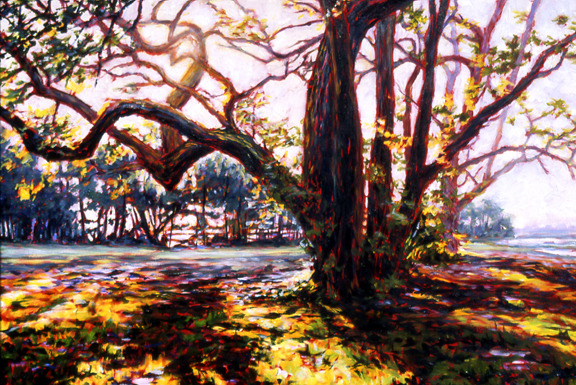 "Past Presence", oil on canvas, 30″ x 40″ – Caroline Jasper
---
Join Caroline Jasper at the Casa for POWERCOLOR PAINTING – Saturday,  to Saturday, to be announced
SEMINAR IS LIMITED !
REGISTER NOW TO RESERVE YOUR PLACE!
BOOK YOUR FLIGHT EARLY
You can reserve your place with a $500. credit card deposit, (no surcharge) or pay in full (surcharge applies)