Connecting with Creative Flow, January 4 to January 11, 2020

Start the New Year
Connecting with  Creative Flow – Art and Yoga Retreat – Journey to Awaken your Creative Self through Art and Soul
Celebrate the New Year with a positive start, join Casa Founder, artist Robert Masla & Yoga, Meditation and Ayurvedic Consultant with Ayurvedic Practitioner/Yoga Instructor Richard Masla, Founder of the Ayurveda Health Retreat and the YogaVeda School for yoga and ayurveda training and yoga teacher certification.
A Meditation, Yoga and Art Retreat Celebrating Creativity"
–  Sat. January 4,
To Sat. January 11, 2020
with Casa co-founder Artist Robert Masla  & "Yoga, Meditation and Ayurvedic Consultation"  with Ayurveda Practitioner/Yoga Instructor Richard Masla, Founder and Director of the  Ayurveda Health Retreat, Spa, & YogaVeda School of Yoga & Ayurveda in Alachua, Florida

Masla, Meditation on the Light, acrylic on panel, 18" x 14", 
private collection, Florida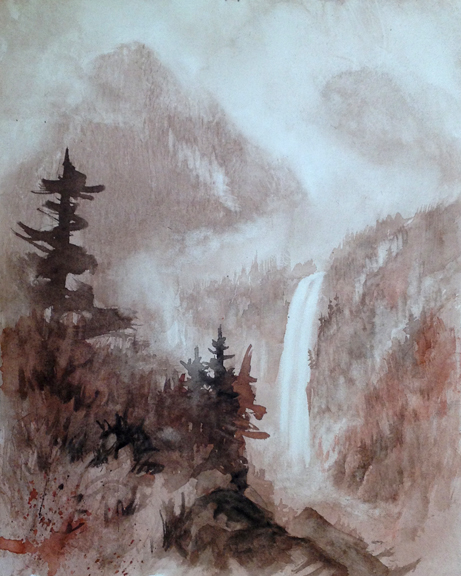 Masla, Flowing, watercolor on Fredrix watercolor canvas, 20″ x 16″, 1.5 hour demo
Join us in starting the New Year in a Positive Flow
"A vacation/workshop that included an experience of Mexico living, great food, boat rides, marvelous excursions – Just so Wonderful!!
But, Bob, what really blew me away was the way you teach a class, yet make it personalized to each of us. The icing on the cakes getting to know you as a truly Great Person. Looking forward to more to come."
– Michael Williamson, Amherst, MA, 2018 workshop participant

Audrey and Roxanne share thier experience of the Yoga and Art Workshop with Richard and Bob
Robert Masla will lead us on a playful, and fun artistic journey to uncover our Creative Self and tapping the flow of creative energy. Reconnecting with your natural intuitive voice in a nurturing and supportive environment where exploration is encouraged and where there are no mistakes. Come and play in this fun, relaxing and rejuvenating workshop. Acrylics, Watercolor and other aqueous media will be our vehicles for entering the flow of creativity. They are the perfect media for learning to trust in our vision, intuition, and judgement. Using non-traditional and innovative approaches, experimentation and "art games" as well as shamanistic techniques and rituals along with both new and old approaches to traditional drawing and painting techniques, we will awaken intuition, spontaneity and creative play while exploring the depths of our souls and opening our hearts.
 In this video Artist/Workshop facilitator and founder/owner of Casa de los Artistas, Robert Masla, talks about how anyone that can sign their name can learn to draw. The same faculties we use every day to negotiate our visual world are used in drawing. If one wishes to learn to draw representationally, what we observe in nature, it involves a new way of learning to see along with training in eye hand co-ordination. It takes time and practice, like practicing the scales of an instrument, - but to make a work of art it takes more than just this technical skill, it comes from the unique vision -the signature of the artist, from a deep, intuitive place of creativity.
---
Richard Masla will compliment each day with calming, centering and invigorating Hatha Yoga -Vyasana flow exercises and stretches, Pranayama – (breathing techniques) that balance and revitalize our energy, and soulful visualization, meditation and song that opens our hearts. Together we will experience access to our calm center of meditative awareness as well as releasing the passion of the "inner wild person" to find more balance and flow in our lives.
Every morning before breakfast we will greet the sun as Richard leads us as we begin our practice, diving into dynamic and rejuvenating vinyasa flow and end with savasana (deep relaxation) and meditation. We will emerge from these practices, clear and vibrant and open.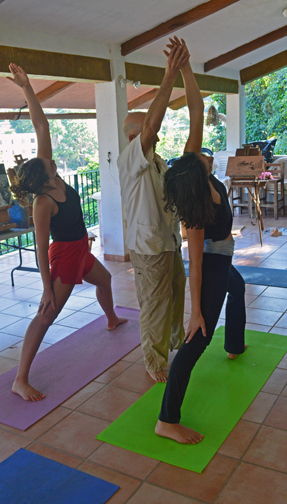 Morning Yoga with Richard in the Casa Studio
After a healthy, delicious breakfast we will gather again in the studio as artist Robert Masla guide us in the experimentation of different drawing and water media, using a variety of painting and drawing processes designed to access our creativity, enhance stillness and awareness along with others that will release energy and passion. We will engage in playfulness, dicover the power of creativity and have fun making art! No prior art experience is needed, but it probably won't hinder your process either. In the afternoons we will also take advantage of the out doors and inspirational locals the Boca offers.

Offering To The Goddess, mixed on board, 12 x 9 inches – Robert Masla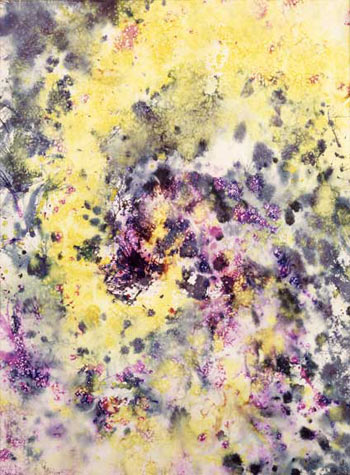 Going Towards the One, watercolor on paper, 32×24 inches -Robert Masla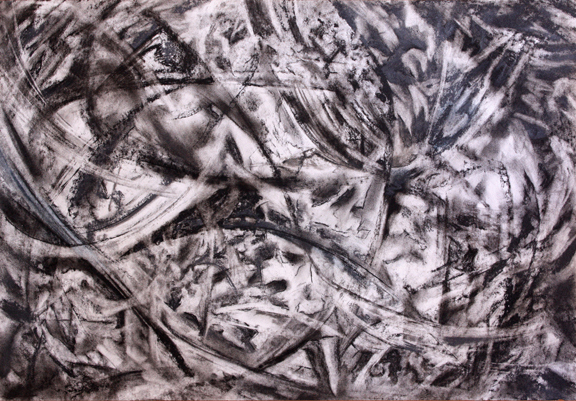 "Signature Energy 1" , Robert Masla, Charcoal, graphite and pastel on paper 18″ x 24″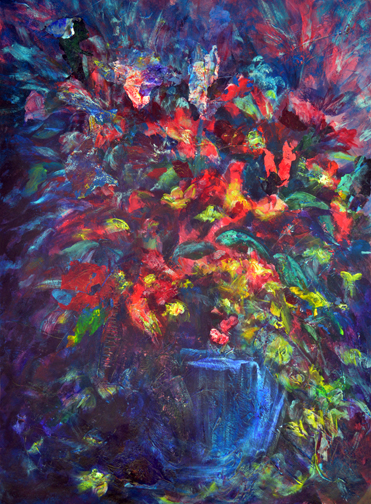 Robert Masla, Celebration, acrylic and mixed media collage 32″x16″
There is also plenty of "downtime" after lunch, during "siesta" for relaxing on the beach, hiking the wonderful trails, or just sitting on your balcony taking in the activities of the fishing village as you observe the beautiful tropical birds that land just feet away. Come and play in this fun and exhilarating workshop where we will experience a variety of different approaches and exercises designed to help us gain access to our calm center of meditative awareness as well as releasing the passion of creative expression.
Your All-Inclusive Cost Includes this and more:
6 Workshop days of Yoga and Art -Yoga before breakfast and art after breakfast to lunch, approx. 3 hrs. in the studio,then after lunch and siesta, 3 more hours of Seminar time and some evenings, (Sunday thru Friday). More than 36 hours of Workshop time, (schedule is flexible to accommodate excursions)
7 nights private room oceanside accommodation (single or double occupancy -No extra charge for a single!) – ALL With Private Bath and Balcony
7 breakfasts, 6 lunches and 5 dinners at oceanside restaurants/all drinks included
Evening Introduction to Ayurveda, includes lecture/ with discussion and Ayurvedic cooking class and dinner
3 unique cultural excursions:
Puerto Vallarta excursion for gallery walking tour, shopping & city life
Boat Trip to explore the gorgeous coastline with opportunity to see whales, dolphins, giant mantas/optional snorkeling at Los Arcos National Coral Reef Park, then on to a fabulous picnic at an exotic secluded beach,(bring your camera and sketch book!)
Trip to the Puerto Vallarta Botanical Gardens for Photography and walking meditation.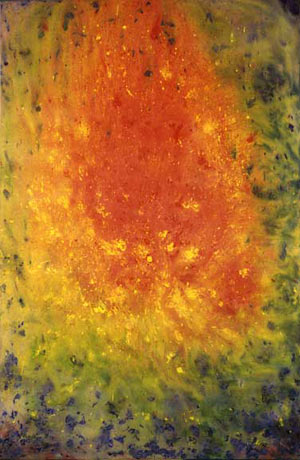 Tapasya – The Fire Within – acrylic and watercolor on canvas, 60″x40″, Robert Masla

Meditation Natura, watercolor on Fredrix watercolor canvas, 30″x20″ Robert Masla
For those interested in learning about a representational approach to drawing and painting, still lifes will also be set up in the stunning Casa Studio, a 1000 + sqr. ft. open-air studio with incredible panoramic views of the mountains, river, ocean and Boca village. We will be able to take advantage of the many inspirational locals in and around the Boca village for sketching and painting in plein air. Anticipate a fun, relaxing, nourishing and extraordinary experience. You will bring home with you skills, knowledge, insight and a deepened understanding of yourself through yoga, accessing creativity and the drawing and the painting process. The Casa's Bob Masla, who has over 35 years as an exhibiting artist and over 30 years teaching experience will be facilitating your creative exploration. But that's not all; make sure you bring your camera and sketchbook, as there will be numerous cultural excursions as well. We will visit the exotic Botanical Gardens for walking meditation, photography and sketching. You can also take a trip into Puerto Vallarta for shopping the Mercado, walking the malecon (boardwalk) and experience the lively arts scene. There will be a boat trip to explore the gorgeous coastline and spectacular rock formations, as well as to swim or snorkel at Los Arcos National Coral Reef Park, with opportunities for seeing sea turtles, whales dolphins and abundant fish.
Other wild life is right at hand, from the balcony of your room you can view tropical birds and observe the local unspoiled Boca. Watch (and participate) as the simple authentic Mexican village life unfolds around you. This quaint fishing village unspoiled by tourists, is a rare treat off the beaten path. Words don't actually do justice to the wonderful adventure in store for each participant. Come, relax and play in this fun and exhilarating workshop. In the playful, nurturing and supportive environment of Casa de los Artistas exploration is encouraged and there are no mistakes.
This workshop is suitable for everyone, regardless of their art or yoga experience. From those with no previous yoga or art training, as well as the seasoned artists and professional looking to find a place of calm reflection and fresh inspiration to infuse their work with new energy and stimulation.
This workshop will generate in you a sense of serenity and help you to identify your clear voice of intuition and self confidence. You will be so engaged in the creative process in this supportive atmosphere, that fears, apprehensions and "inner critiques" will be quieted and fall to the background, allowing your Creative Self to emerge.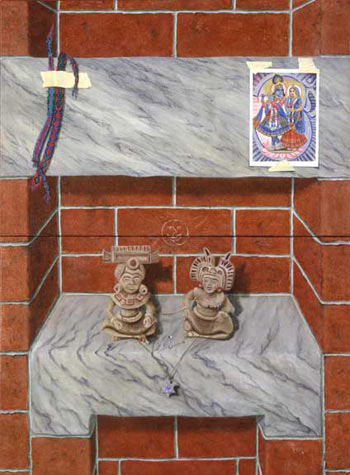 Marriage of the Sun & Moon, oil and alkyd on board, 2 panels, 9 x 12 inches each – Robert Masla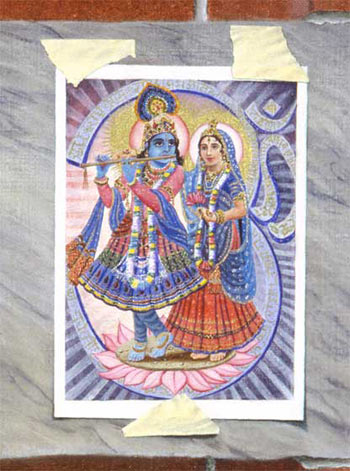 Detail- "Marriage of the Sun & Moon", oil and alkyd on board, 9 x 12 inches each panel – Robert Masla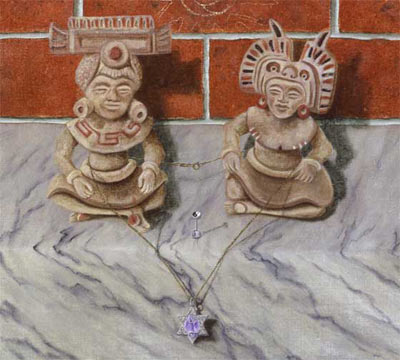 Detail- "Marriage of the Sun & Moon", oil and alkyd on board, 9 x 12 inches each panel  – Robert Masla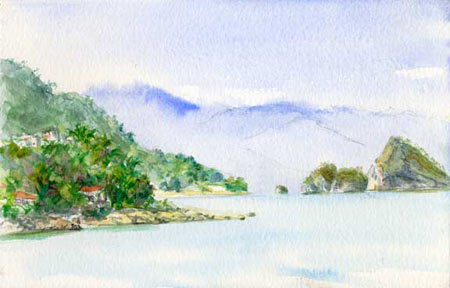 "Los Arcos from the Coastal Highway", plein air watercolor and pencil on paper, 5 x 7 inches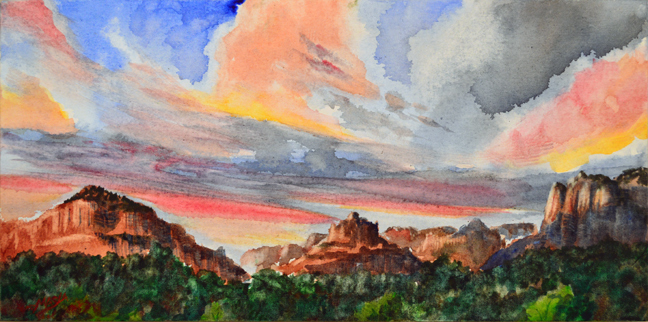 "Entering Sedona, 10th Annual Sedona Plein Air Festival", watercolor on Fredrix watercolor canvas paintboard, 8×16 inches, Robert Masla
---
Everyone who comes to this workshop will equally and fully enjoy "Art and Soul – Exploring Your Inner Landscape".
– SEMINAR IS LIMITED !
REGISTER NOW TO RESERVE YOUR PLACE!
BOOK YOUR FLIGHT EARLY
You can reserve your place with a $500. credit card deposit, (no surcharge) or pay in full (surcharge applies)