February 24 – March 3, 2018, Sandra Wakeen – Painting in the Tropics: Plein Air and the Studio
Sandra Wakeen, February 24 – March 3, 2018  Painting in the Tropics:  Plein Air and the Studio
February 24 – March 3, 2018
Painting in The Tropics: Plein Air and the Studio
with Sandra Wakeen
Join us for a unique week of painting and cultural exploration as acclaimed artist Sandra Wakeen teaches you to focus on the brighter aspects of the landscape and how to express them without hesitation.
Sandra Wakeen, Beatrices' Cottage, oil
Students will study the subtle colors and patterns of nature's design in a balanced grouping of masses while at the same time carving volume and structure in their work.
Once the masses are organized the application of color will be applied using thick and thin paint in its proper sequence. There will be an in depth study of how to harmonize your pallet by understanding how to balance warm and cool colors.
Sandra Wakeen, Chianti Vineyard, oil
The understanding of color temperature will define for the viewer the "feeling" that the artists is conveying. The merit of relying on sight is paramount to Sandra's teaching; by doing so one gains the most truthful aspects of nature. Sandra believes that "all that is most difficult to be expressed by paint can be expressed by skill, knowledge, and sensitive observation".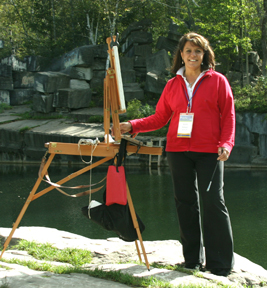 By increasing the power of sight students will increase their power to define their personal vision of the world as they see it.
There will be many opportunities during this week for participants to experience painting from direct observation, "en plein air" at exotic, inspirational locations. We will visit the award winning Puerto Vallarta Botanical Gardens and spend the day exploring, painting and photographing incredible flora and vistas as we make their hacienda our studio, where they will serve us a delicious lunch. Step back in time as we spend another day painting in and around the zocalo of the quaint  mountain town of El Tuito, stopping only to have a sumptuous lunch in the patio garden of a hacienda style restaurant off the town square. Join Sandra as we paint on the beach in front of the Casa – (or in the open air Casa studio), with the fishing boats, exotic birds, waves, river, village and mountains all around us. Experience the gorgeous rock formations of the Mexican Pacific coast as we take a boat trip, (with opportunity of seeing whales, dolphin, tortoise and mantas) and then onto sketch and picnic at a beautiful beach. The Casa's 1000+ square foot studio is always there for us to return to for demos, discussions and add those finishing touches onto paintings done in the field. This is sure to be an enriching experience to all that join Sandra Wakeen at Casa de los Artistas for Painting in Tropics – in Plein Air and the Studio.