Dec. 10 -17, 2016, Masla – "No Fear of Water"
Dec. 10 -17, 2016
"No Fear of Water – Introduction to Watercolor and Aqueous Media"
Celebrating Creativity and Exploration with a Week of Watercolor and Acrylic Paint in Paradise with artist Robert Masla
Aqua Media Magic
A Week of Watercolor (and other Aqueous Media) in Paradise
with Casa co-founder Robert Masla
Artist Robert Masla takes you on a wonderful aqua media adventure in a week full of painting, learning and discovery.
For beginner to advanced painters
Saturday, December 10 – Saturday, December 17, 2017
"Bob was beyond generous in sharing his skills and ideas. The demonstrations and verbal critiques were very helpful. I learned a lot. By the middle of the week I found myself viewing my environment with new eyes. I felt that Bob pushed me further to improve my work."
-Jane Cassidy, Huntington, Long Island
---
Often times people are hesitant to pick up watercolor because they hear it is "the most difficult medium". Actually, one medium is no more difficult than another, it is simply a matter of understanding it's versatility, the advantages and the various properties and behavior of your chosen medium. In this introduction to watercolor we will explore a number of fundamental aspects of the medium that will remove your fear.

Understanding your basic tools and how to use them:
• paper, canvas, brushes, paints, water, etc.
• preparing and set up for a painting.
• the colors on your palette, opaque and transparent color, their properties, mixing color and various color wheels.
• number of methods and techniques for applying paint. Wet on wet, wet on dry, dry brush and more.
---
"Watercolor is the perfect medium for learning to paint. It's all about control and letting go, gaining technical mastery while developing trust in your creative intuition and what I call, "listening to the paint". In painting the artist must balance their understanding of the properties of her materials, with the possibilities and limitations of the mediums being used. Mastering manipulation and techniques and then trusting in the proficient spontaneous handling of them. This, along with the infusion of the artists creative spirit, their vision and imagination, intuitive sense and their intention, creates something magical, something beyond the sum of it's apparent parts." – Masla
"Bob was beyond generous in sharing his skills and ideas. The demonstrations and verbal critiques were very helpful. I learned a lot. By the middle of the week I found myself viewing my environment with new eyes. I felt that Bob pushed me further to improve my work."
-Jane Cassidy, Huntington, Long Island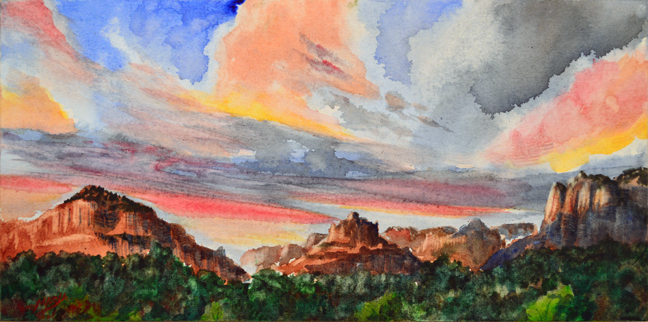 Masla, Entering Sedona, (plein air, Sedona) watercolor on Fredrix canvas paintboard, 8″x16″
Bob creates an atmosphere of ease and productivity where everyone from the beginning to the advanced artist learns, feels inspired and confident -and has fun! Spend a week in paradise in the rejuvenating atmosphere of Casa de los Artistas while immeresing yourself in the exploration and magic of watercolor and aqueous painting with Bob.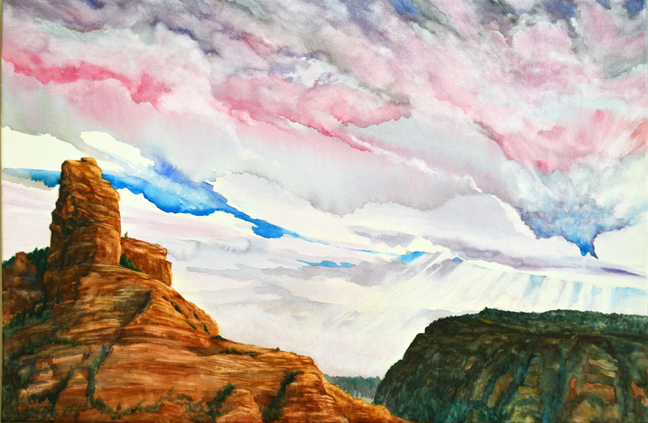 Masla, Entering Sunrise and Virga, (plein air, Sedona) watercolor on Fredrix watercolor canvas, 20″x 30″
Imagine the best art workshop vacation of your life: Painting in a charming fishing village and other exotic locals along the gorgeous Pacific coast of Mexico, with inspirational workshop leader Robert Masla! Immerse yourself in the joys of authentic Mexican village life at one of the most beautiful and arts oriented locales in Latin America, Casa de los Artistas, in the serene village of Boca de Tomatlan,
10 miles south of Puerto Vallarta.

Masla, plein air watercolor demo on Fredrix watercolor canvas, 9″x 12″,
at the Hacienca Devisadero, El Tuito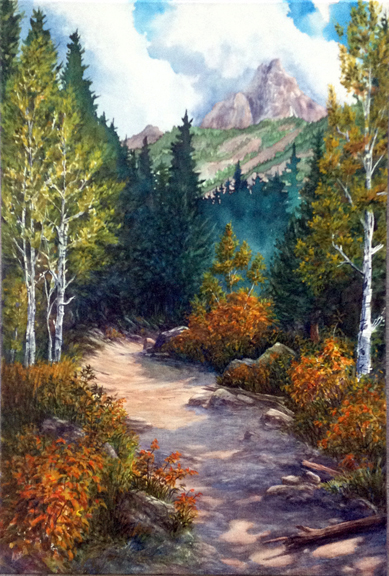 Masla, "The Path, (Jenny Lake, Tetons)" – 30″ x 20″ – watercolor on Fredrix watercolor canvas
"Bob, I felt like I learned so much from you in the first day that I had gotten my monies worth for the whole week- the rest was icing on the cake. On a scale of 1 to 10, an eleven would be too low! All was outstanding and wonderful."
– Ed Pulik, Washington, DC
Get ready for a week of watercolor imersion in the tropics.
There will be demonstrations and organized lessons every day as well as individual and group critiques during this all inclusive week long workshop. Each day Bob will share with you his years of painting experience demonstrating various watercolor techniques and creative approaches for diverse subjects. During these daily painting demonstrations Bob will give detailed explanations into the how and why of the process followed by individual assistance with each participant.

Robert Masla, "Meditatio Natura", watercolor on canvas, 20″ x 30″
Along with working on completing a painting a day, we will be exploring brushwork and the importance and processes of painting "nothing", (negative space and shapes), as well as methods for portraying objects and figures and the elements of the landscape, (sky, water, rocks, etc.). The crucial creative steps to making a painting; intention, composition, design, values, edges, shape, line and color will also be covered.
"Bob"s knowledge covers the most basic to the most advanced"
– Jean V. – Boston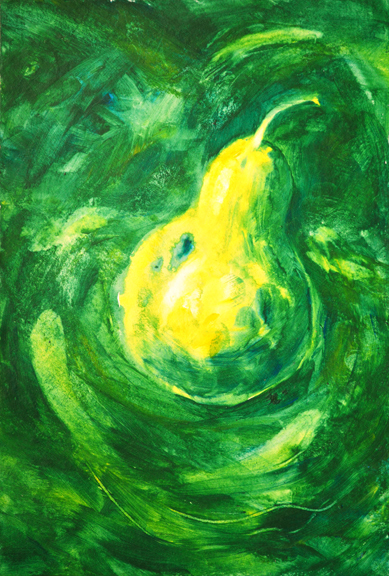 Masla, "Pear Series, study #2, aqeous acrylic on paper, 11″ x 7.5"
The result is a wealth of information presented to the participants along with practical time for each artist to paint under Bob's tutelage. There will be time spent in the Casa's magnificent open air studio with sweeping views of the ocean, river and quaint village of Boca de Tomatlan, as well as unique time spent painting at inspirational locations.
"What stands out most in my mind is: the most pleasant – non-judgemental easy learning environment, with a knowledgeable, gentle spirited host artist who was most accommodating. I couldn't have started as a novice with a more patient instructor – Edifying and uplifting – I'd rate it a 10 – A Fabulous opportunity!"
– Anne Bizak, Philadelphia, PA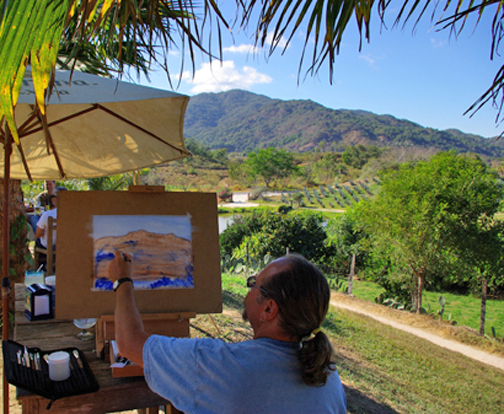 Bob giving plein air demo in the mountains of El Tuito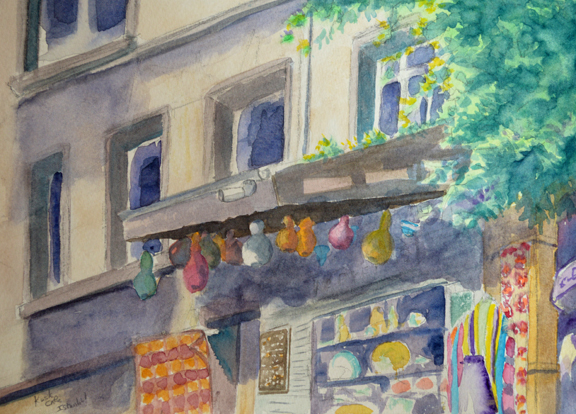 Robert Masla, "Afternoon Coffe, Istanbul" – 9″ x 12″, plein air watercolor on 300lb Fabriano w.c. paper
"Bob was very sensitive to people's needs and abilities, making a special effort to get to know everyone and their personal needs.
A sensitive, effective, instructor."
Julia Courtney, Curator of Art, Springfield Museums, Springfield MA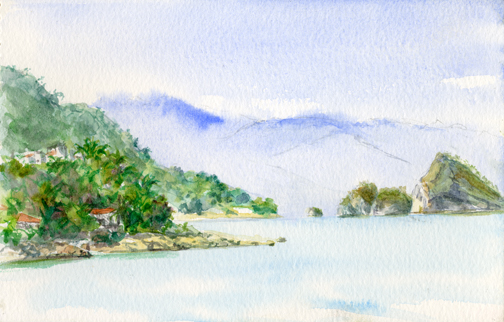 Robert Masla, "Los Arcos from the Coastal Highway",
plein air watercolor and pencil sketch on paper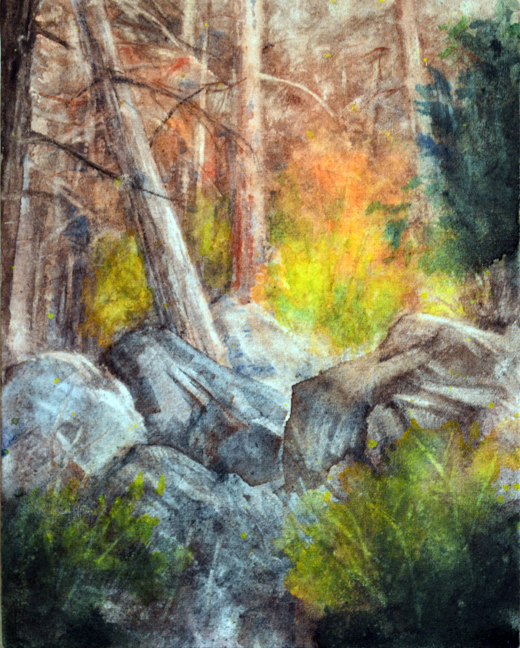 Masla, Painting in the Rain at Oak Creek, (plein air, Sedona) watercolor on canvas paintboard, 8″x16″, (private collection, Flagstaff, AZ)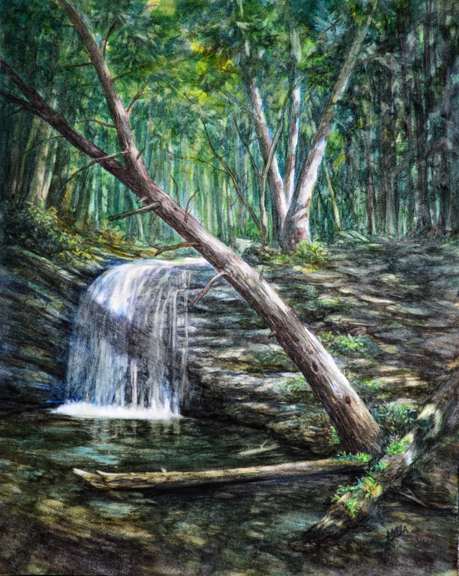 Robert Masla, "Rhythms of Threes and Four, (Gunn Brook Falls)",
watercolor on w.c. canvas, 16″x20"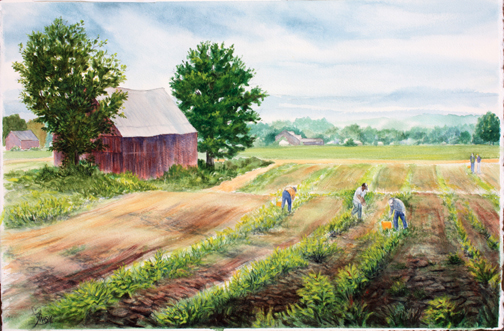 Robert Masla, "Hadley Farm Workers", watercolor on paper, "15x 22" (private collection, Baton Rouge, Louisiana)
"What a magnificent experience! Bob and his generosity of self – it's hard to put in words what this art experience has been. Not only did I learn about composition and style, but also how to go beyond my edge or stopping point. Bob gently and graciously offered suggestions to get me just past
what I could see." – Lynn V. Michigan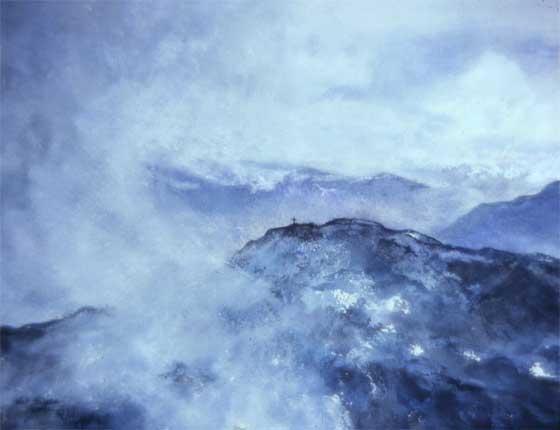 Robert Masla, "Mt. Pilatus", watercolor on paper, 9″x 12"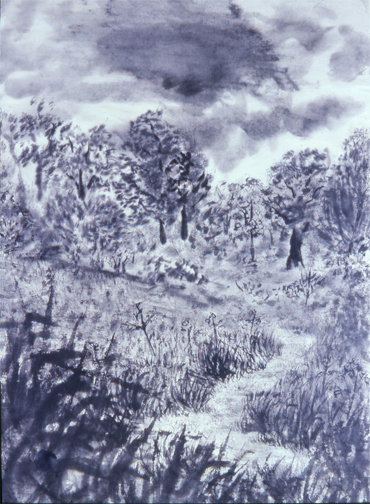 Robert Masla, "Ward Acres, Place of Predilection", plein air, sumi-e brush and ink on rice paper
---
If you're ready to spend a week relaxing in the tropics, learning how to take your painting to the next level, and having fun while you do it, then this is the workshop for you. Come and enjoy "A Week of Watercolor in Paradise"
SEMINAR IS LIMITED ! REGISTER NOW TO RESERVE YOUR PLACE!
BOOK YOUR FLIGHT EARLY
You can reserve your place with a $500. credit card deposit, (no surcharge) or pay in full (surcharge applies)
Go to the Payment Page >>
To see more of Bob's watercolors click here