February 9th – 16th, 2019, Tom Lynch

Join Master Watercolor Artist Tom Lynch for a week of "Watercolor Secrets Revealed"
– A special week of creative exploration in watercolor, fine cuisine, cutural excursions.
"Watercolor Secrets Revealed" – with artist Tom Lynch Saturday, February 9th thru Saturday, Feb. 16th, 2019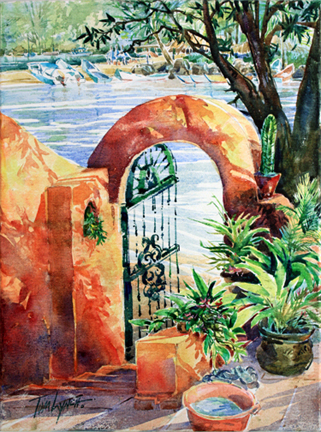 "Casa de Los Artistas", painted on location at the Casa patio entrance- Watercolor , Tom Lynch
"Lavender Skies", AZ – Watercolor , Tom Lynch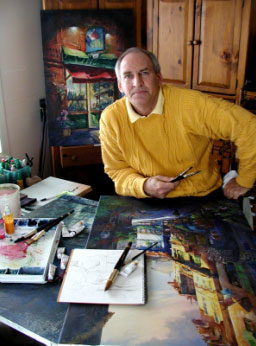 Check out Toms' slide show of his last Casa Workshop Experience above. The Casa is honored to welcome back master watercolor painter Tom Lynch. Tom brings his unique artistic vision, technical expertise and professionalism, along with his warm, friendly and fun loving personality that makes this a unique Casa Experience. We are excited to have him join us again and look forward to a very special week of creative exploration and celebration!
Tom's workshops at the Casa are always an incredible experience for everyone, filled with learning, friendship and fun.

The Casa Experience is
 "A Breath of Fresh Air Among the
 World of Ordinary workshops" - Tom Lynch

"Boca de Artistas", painted on location near 
"Ramones' Huachinango Restaraunt", on the Boca Beach 
- Watercolor, 11"x14", Tom Lynch
"I am an art and workshop junkie of more than 25 years over our beautiful world.
-Not one of these great places made me happier every day than Casa de los Artistas. I follow Tom Lynch around the world not just because he is one of the worlds greatest watercolorists and instructors, but because he finds the greatest places ever for his classes.
Thank you Tom for finding the best of the lot, Casa de los Artistas."
– Norm Stahl, Bayshore, N.Y. – Participant in Tom Lynchs' 2011 Casa Workshop and returned for Toms' 2015 Workshop at the Casa

---
"I have been on tours several times. Never experienced one where as much was included in the cost of the trip. Food, (excellent), drinks, transportation to and from the airport, excursions- were all included. I came for the workshop, but the excursions gave me a wonderful glimpse of the country and its' people. That said, our hosts are at the top of the list of things I appreciated. Bob and Monica were gracious to one and all and made me feel welcome to their home."
Thank you all.

Linda W., Florida, – Participant in Creativity, Culture, Cuisine.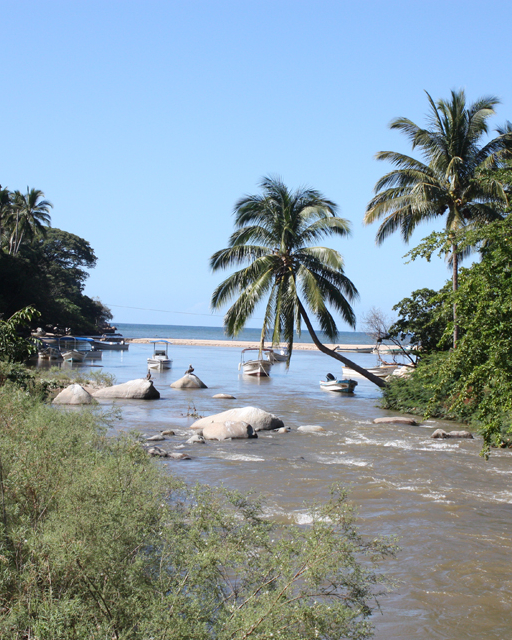 View towards the ocean from the Boca bridge
Imagine this incredible vacation experience: Taking the time to explore the depths of your creativity in an atmosphere free of judgement and filled with joyful camaraderie, while enjoying fabulous cuisine and unique cultural adventures. Visual Artists Tom Lynch & Casa founder/Director Robert Masla will facilitate your week long Casa Art Adventure.. Together they bring you over 75 years of combined professional art experience bringing both external and eidetic images into painterly form and helping others do so through their teaching.
– Immerse in the ocean of imagination, in a nurturing atmosphere of non judgement and creative play. The joys of simple, authentic Mexican village life unfold around you at one of the most beautiful and arts oriented locales in Latin America, Casa de los Artistas, in the serene village of Boca de Tomatlan, 10 miles south of Puerto Vallarta.
There will be demonstrations and organized lessons every day as well as individual and group critiques during this all inclusive week long workshop. Tom Lynch shares his unique techniques and years of painting experience in his warm and personal teaching style. The result is a wealth of information presented to the participants along with practical time for each artist to paint under Tom's tutelage. There will be time spent in the Casa's magnificent open air studio with sweeping views of the ocean, river and quaint village of Boca de Tomatlan, as well as time spent painting on location in plein air. Tom will provide a daily painting demonstration with detailed explanations of all the "hows" and "whys" followed by individual assistance for each student daily.
---
 Renown watercolor artist/instructor Tom Lynch demos techniques for painting palm trees during a workshop at Casa de los Artistas. Join Tom at the Casa for the next workshop of Watercolor Secrets Revealed.
---
Tom brings enthusiasm and energy to his class, demonstrating not only the vast range and flexibility of watercolor painting but how to convey emotion and conviction in the painting by exploring, experimenting and developing creativity in each individual. He teaches techniques with great clarity in his workshops, combining education, friendship, and fun in an organized learning atmosphere. Included are tips on photography, "on-location" painting and more. Students come away with enthusiasm for watercolor painting, new techniques, a new friend and knowledge that you can use for a lifetime!
---
"It was just what I had hoped for. Everything was taken care of for us -no fuss no muss. Not the ussual "tourist" tour group deal. An authentic experience. Great ambiance, food, views – everything planned for your enjoyment. The most stress free vacation I've ever had!" – S.S., Pt. Richmond, CA
"My week at the Casa was the best gift I ever gave myself. It was transcending. The week was full of constant revelations to my senses – Mexico is experienced not as a "tourista" but as an insider – a member of the Boca community. I learned so much I can't say enough positive things about my artistic and creative experience at the Casa! Bob Masla is a treasure trove of knowledge about all aspects of art! History, painters, the technical processes, etc. – ask him anything -then sit back – listen and learn!" – G. Coleman, New York
This unique workshop is designed to give you a rich cultural tour as well as the opportunity to spend timeless moments creating art work as we develop priceless memories together in the uncommon atmosphere of Casa de los Artistas.
"Beautiful, Relaxing, Inspiring – a 10!" – Robin L.
More than an Art Workshop, More than a Vacation
– An Extraordinary Cultural Experience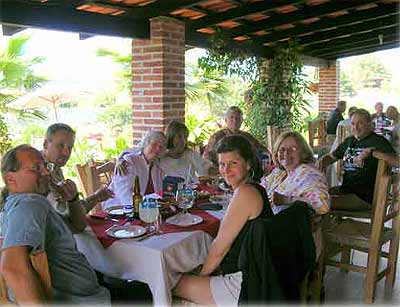 Workshop participants enjoy lunch in the Mt. town of El Tuito
The Casa Experience was Great – I would not change a thing, even though my room was not directly adjacent the Casa, it was great, I loved it, plenty of room and a sunshine balcony and private bath! The studio space was also great, large room for all to work, with great views. The teachers, Bob and Jane, both made me feel very good about myself. I'd rate it a 10+ – you will have the best time you have had in a long time and you will meet two of the nicest people, (Bob and Monica), that you will never forget – I know I won't!"
Creativity, Culture Cusine participant – Paulette S., North Carolina
Take a break from the ordinary, come and enjoy the tropical lifestyle on Mexican time. Jump-start your intuition as you recharge your creative batteries in this inspirational village, where time seems to stand still. Some of the opportunities available are painting, drawing, cooking classes from traditional Mexican chefs, swimming, sea kayaking, snorkeling, shopping at the Mercado, or just relaxing on the beach or your private patio. Your workshop vacation at Casa de los Artistas is different from anything you have experienced, (read the statements of past Casa participants in our "Testimonials"). But that's not all, make sure you bring your camera, journal and sketchbook, as there will be numerous cultural excursions as well. We will visit the exotic botanical gardens for photography and sketching, we will visit the Mt. town of El Tuito, having lunch and tequila tasting at a hacienda restaurant and then join in the evening Fiesta of the Virgin of Guadeloupe. This is a rare opportunity to witness and participate in a very authentic rural Mexican Fiesta – not on any tourist routes! There is a Parade down the main street of town by many of the surrounding villages culminating with performances and fiesta in the Zocalo and fireworks at the church! We will also be taking a trip into Puerto Vallarta for shopping at the Mercado and wonderful crafts shops, walking on the malecon (boardwalk), at night (filled with artists, street performers and revelers) and tour some of the galleries to experience the city's lively arts scene.
A special treat will be the opportunity for cooking class with the wonderful Casa chef Ruby. Learn how to prepare authentic and delicious Mexican cuisine; from a variety of salsa's, to main entrees and deserts. Then enjoy the results with new friends in a relaxed and fun environment.
There will be a boat trip to explore the gorgeous coastline and spectacular rock formations, with opportunities for seeing sea turtles, whales, dolphins and abundant fish. Other wild life is right at hand, from the balcony of your room you can view tropical birds and observe the local unspoiled Boca. Watch (and participate) as the simple authentic Mexican village life unfolds around you. This quaint fishing village unspoiled by tourists, is a rare treat off the beaten path. Words don't actually do justice to the wonderful adventure in store for each participant. Your all inclusive week long Art Workshop/Vacation is just that – a workshop that is structured so you don't have to worry about details, but not too rigid – loose enough to enjoy yourself, relax and experience a vacation from the typical.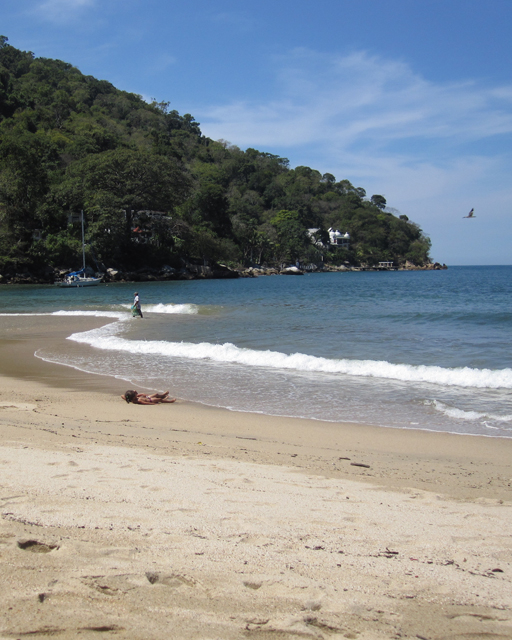 Boca beach in front of the Casa
Anticipate a memorable experience, filled with adventure, inspiration, and camaraderie among new friends. You will bring home with you skills, knowledge, insight and a deepened understanding of yourself, your innate creativity and the keys to imagination.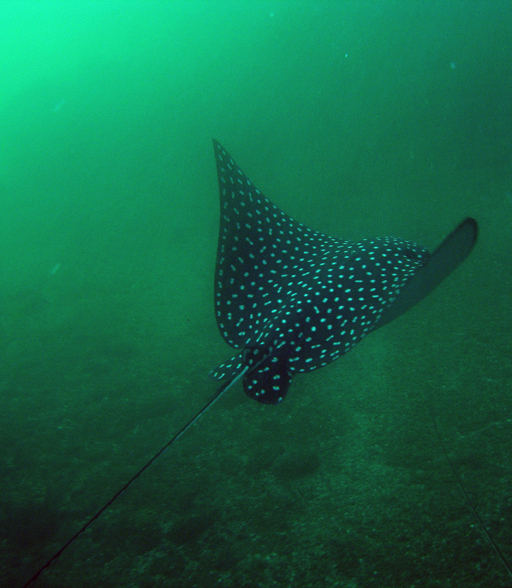 Eagle Ray at Los Arcos National Coral Reef Park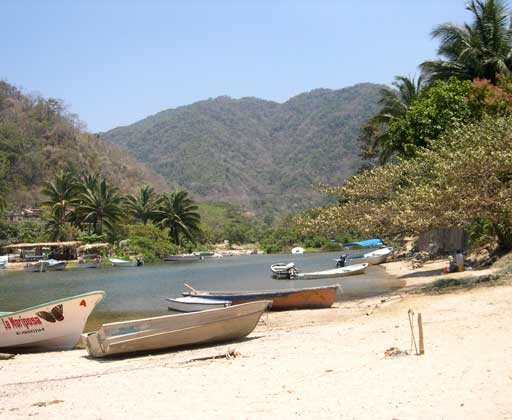 View up river from in front of the Casa
"It is very hard to think of anything that could improve the Casa Experience. Even when a participant chooses to depart from the program, the acceptance and willingness of our hosts to accommodate was wonderful. Don't change a thing… On a scale of 1 to 10, an eleven would be too low! All was outstanding and wonderful." – Ed Pulik, Washington, DC
REGISTER NOW TO RESERVE YOUR PLACE!
BOOK YOUR FLIGHT EARLY
You can reserve your place with a $500. credit card deposit, (no surcharge) or pay in full (surcharge applies)
Register in full by October 31 for a $100. discount!
Go to the Payment Page >>